Solo Exhibitions

2005 Skylight Gallery, Aurora, Ontario
2004 Mill Pond Gallery, Richmond Hill. Ontario
2003 New Yorker Theater, Toronto, Ontario
2002 - 2003, Vaughan Library, Dufferin/Clark, Thornhill, Ontario
2002 Young Dancers of Canada, Thornhill, Ontario
Group Exhibitions

2013 Art expo, Thornhill Ontario
2013 Heintzman House Invitational Art Show, Thornhill, Ontario
2012 Thornhill Studio Tour, Thornhill, Ontario
2012 Heintzman House Invitational Art Show, Thornhill, Ontario
2011, Thornhill Studio Tour, Thornhill, Ontario
2011, Heintzman House Invitational Art Show, Thornhill, Ontario
2011, Toronto Botanical Gardens, Toronto, Ontario
2010, Thornhill Studio Tour, Thornhill, Ontario
2010, Heintzman House Invitational Art Show, Thornhill, Ontario
2009, Thornhill Studio Tour, Thornhill, Ontario
2009, Heintzman House Invitational Art Show, Thornhill, Ontario
2009, Door Open Vaughan, MacDonald House, Thornhill, Ontario
2008, Heintzman House Invitational Art Show, Thornhill, Ontario
2008, Art at the Castle, Toronto, Ontario
2008, Thornhill Studio Tour, Thornhill, Ontario
2008, Toronto Art Expo, Toronto, Ontario
2007, Heintzman House Invitatinal Art Show, Thornhill, Ontario
2007, Thornhill Studio Tour, Thornhill , Ontario
2006, Bayview Village Art Show, Toronto, Ontario
2006, Kathleen Gormley McKay Art Center, Unionville, Ontario
2006, Heintzman House Invitational Art Show, Thornhill, Ontario
2006, Thornhill Studio Tour, Thornhill, Ontario
2005, Coop on Scollard, Toronto, Ontario
2005, Thornhill Studio Tour, Thornhill, Ontario. (juried)
2004, Richmondhill Studio Tour, Mill Pond Gallery, Richmondhill, Ontario (Juried)
2004, Arts Aurora, Aurora town hall, Aurora, Ontario (juried, honorable mention)
2004, Mill Pond Gallery, Richmond Hill, Ontario (juried)
2003, Arts and Culture Vaughan, City Playhouse, Thornhill, Ontario
2003, Richmondhill Studio Tour, Mill Pond Gallery, Richmondhill, Ontario
2003, Mill Pond Gallery, Richmondhill, Ontario
2003, Sunnybrook Hospital, Toronto, Ontario
2003, Arts Aurora, Aurora town hall, Aurora, Ontario (juried)
2002, Arts and Culture Vaughan, City Playhouse, Thornhill, Ontario
2002, Mill Pond Gallery, Richmondhill, Ontario
2002, Art in the Park, Markham, Ontario
2002, Mill Pond Gallery, Richmondhill, Ontario
2002, Sunnybrook Hospital, Toronto, Ontario
2002, "Artistic solitude's", Mill Pond Gallery, Richmondhill, Ontario
2001, "Artistic Celebrations" Mill Pond Gallery, Richmondhill, Ontario
2001, "Art Focus", Metro Hall, Toronto, Ontario (juried)
2001, Mill Pond Gallery, Richmondhill, Ontario
2001, Art in the Park, Markham, Ontario

Reviews

2007, April Editor's pick, Frank King, The Thornhill Liberal, pg. 3
2004, Nov. Community, Simone Joseph, The Thornhill Liberal, pg.7
2004, Nov. Mind, BodyEntertainment, Sophie Nicholls, Metro. Pg.21
2004, Nov. Toronto, Jennifer Bill, Toronto 24 Hours, pg. 4
2004, June. Arts round up, Corrie Pollock, The Thornhill Post, pg. 19
2002, Nov./Dec. "Programs" Frances Stocker, At the Library, Vaughan Public Libraries, pg.10
2001, Nov. Art Focus 10th Annual Fall Artists Showcase, Pat Fleisher, Art Focus Magazine, pgs. 6 & 8
Professional Affiliation

Bita Art Studio, Art Instructor 2007
Richmond Hill Academy of Arts, Art Instructor 2006
Thornhill Visual Artists, 2005 to 2012, publicity chair.
Richmond Hill Group of Artists, 2001 to 2006, executive member 2002, 2003, 2004.
Visual Arts Ontario, 2001 to the present.
Art Education

1983-1987, Humber College (Interior Design)
Publishing's
2002, Artful Creations print catalogue.
Additional Artists who are showing and teaching at the Studio:
Iska Preter
Iska was born in Israel but was raised in Brasil, where she spent most of her teenage years. Graduating from the Panamerican School of Art in Sao Paulo, in Advertising and Design, Iska was recognized as having a distinct and unique talent. It is in Brazil where she was exposed to the exotic and culturaly diverse background of the Brazilian people; graphically depicting their vivid and colourful foklore.
In 1972 Iska moved back to Israel where she attended the University of Haifa. It was from there that she graduated with a diploma in Arts. In addition, she studied at the Technicom School of Fine Arts where she obtained a degree in Graphic Design and Illustration. It was there that she painted and developed her unique artistic style especially in oil colours. In 1990 Iska moved to Canada where she participated in numerous workshops and classes studying art theory, using both water colour and acrylics.
As part of her commitment to art and desire to introduce willing individuals to to various painting techniques, Iska also teaches adult groups to draw from personal experiences and depict these on canvas.
Iska's art work is a graphic representation of her intuitive and innovative mind, presented in colours and images influenced by her past and present experiences.
Khatcho Yazedjian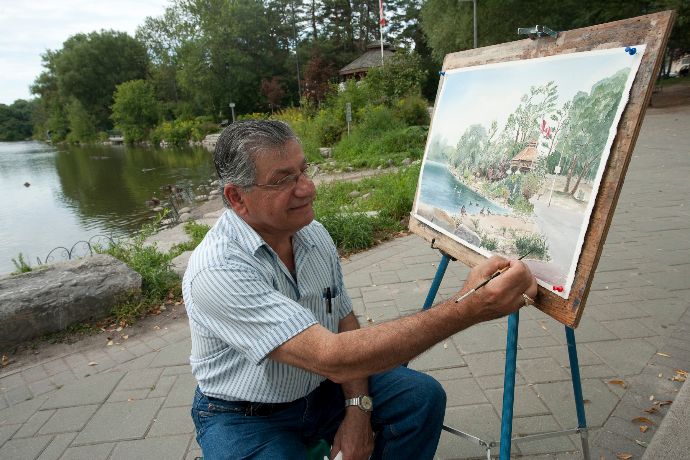 Khatcho was born in Cairo, Egypt in 1940 and is a descendant of Armenian parents. His artistic talent waevident at a young age when he earned his first award at the age of 12. He continued to pursue his passion by completing a four year comprehensive program at Leonardo Da Vinci Art College.
In 1970, Khatcho immigrated to Toronto with his family. The great Canadian landscape appealed to his love of nature and the creatures inhabiting it. Inspired and motivated, his passion for painting flourished. Utilizing watercolour as his preferred medium, Khatcho found his niche by capturing wildlife with a mystic transparency.
Khatcho continues to grow in his craft and inspire others by teaching varios workshops throughout Ontario.
Shannie Van Buren
Shannie Van Buren, artist and cartoon enthusiast, brings her distinctive style to every piece of art she produces, which applies festive colours, robust creativity, attention to detail, and often children's quirky subjects. She has created characters for children's books, and recently received recognition as a ketubah artist for ketubah.com. Residing in Toronto, Canada, she received her Bachelor of Design in Fashion Communications at Ryerson University.
Working both digitally and traditionally, she is passionate about character design and children's illustration and spends much of her free time cuddling with her dog, Storm, cooking delicious meals with her husband and sketching her favourite subjects, animals and children.
Kathy Brumer
Kathy lives in Thornhill, and was born in Toronto.
She is an artist who loves creating many different types of art work. She started out at Klim School of Art, drawing and working with the figure for many years. Once she was comfortable with the figure she then moved onto explore painting. She has learned to use all mediums. She has spent many hours watching demo's and has taken workshops, and classes over the years. In 2012, enrolled into art school program. During her time in school, has found other interests like ceramics, sculpture and photography. She is a now a graduate from Central Technical School of Art. Since finishing school she has been teaching and has been working on a body of work for her own solo shows.
Aaron Bengall
Aaron Bengall is a Canadian acrylic painter and visionary. He create artworks that tell stories, then packages and market them as books and educational resources. He able to share important life messages in a memorable way by showcasing these products using custom experiential point of purchase displays. These displays are featured at community events and are demoed during presentations and workshops.
His passion for self-expression prompted him to launch a community communication platform called Brain Library. Aaron's clients experience the thrill of having their ideas and dreams turned into a reality.
Vision: empowering people and organization to succeed by meaningfully sharing the stories of their lives.
MAJOR ACHIEVEMENTS
 2016, Received government funding to accelerate the growth of my business called Brain Library by the ACCEL program for entrepreneurs at Centennial College.
 2016, Received Government funding to launch a business called Brain Library by the SBEC (Small Business Enterprise Centre Richmond Hill.
 2016, Official artist of the Vaughn Arts Festival ran by Rock Star Music School at the JCC in Richmond Hill.
 2016, Invited to Ontario Junior Citizenship Awards at Lieutenant Governor Suite at Parliament Hill because of a children's book I made with a Type 1 Diabetic called 'Preston's Big Game.'
 2015, Commissioned to paint the story of a families snow storm home birth as a part of Footwork Orthotics London's Marketing.
 2014, Featured in the London Metro Newspaper.
 2014, Featured on CTV News for 'Preston's Big Game', an educational Type 1 Diabetes book I made with an 11 year old in London Ontario.
 2014, Official artist of JCC Richmond Hill's international post card exchange.
 2014, Created and tested a series of educational music cards called Feel the Beat Music collectable trading cards at Rockstar Music School.
 2011-2015, Featured Artist at UTSC international development conference, Investing in
Children's book camp magazine, the faculty of social science homepage, on Western University TV, Georgina Art Gallery, Maple Leaf Diary in Sutton.
 2008-2009, Written about by Mernie Beck, The Liberal for admirable community involvement.
 2009, Author and Artist of the children's book 'Feel the Beat'.
 Co-directed a high school play that was performed for students and parents.
 Successfully co-lead Langstaff Secondary School's prom committee, while coordinating Prom
(design, booking venue and dj, financing, raising money, etc…).
 Took part in charity art shows for the Ronald McDonald's children foundation, the make a wish
foundation and had a personal art show at Liss Gallery downtown.
 Received the Together we succeed award in elementary school for running a basketball clinic for third graders.